STUDIO GRANT
September 2020 - April 2021


We are offering a four-week-long studio residency in the thealit workroom* (shop space) to six different female artists.



NOW @ workroom thealit

In Regard to Uncertainty
18th January - 8th February 2021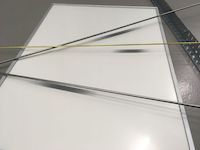 _
Note:

Due to the current corona rules, a visit to the study is not be possible at the moment.

However, it will be possible to watch through the shop window. Wearing a face mask and keeping a safe distance are also important here.
*COAPPARATION? Cooperation is a process or behavior that can be regarded as essential for many things, ranging from culture and cultural politics to evolution, and vice-versa. Like an engine, it enables the stop and go of functional relationships, whose complex rhythms and intervals can in turn appear instrumental. In an apparition—another word for manifestation—perhaps? In that case COAPPARATION would be a little bit of COAPPARITION, because each instance of cooperation or each instance of its rejection comes down to common understanding, agreement, inquiry, hesitation, and action.
Part 3 of the COAPPARATION project will take place in autumn 2021. A series of events featuring diverse artists, scientists, and activists will be held, to the extent that health precautions at the time allow for events to be presented in small spaces. Otherwise, this format will also be adjusted, and more work will be done outdoors and with the window, in addition to the general digital presentations.
*********************************
Reading recommendation:
Unspeakable references – On infective states of words and images in the "SHUT DOWN 2020" project. Claudia Reiche, Brigitte Helbling
in Artnodes, Journal on Art, Science, and Technology