Special SHUT DOWN 2020 
kuratiert von Brigitte Helbling und Claudia Reiche




im CulturMag - Literatur, Musik & Positionen
mit über 50 Beiträgen zur Frage nach Eindrücken und Momentaufnahmen aus dem Shutdown 2020
Format: 1 Bild + 100-250 Worte
Hier geht es rein: Editorial SHUT DOWN 2020
"People are having bizarre dreams…", sagte neulich eine Moderatorin auf BBC.
*********************************
Video-lecture-series
Online
26.05.20 (10-12 Uhr): Sheila Meintjes (Johannesburg/ Südafrika)
02.06.20 (10-12 Uhr): Paula Banerjee (Kolkata/ Indien)
16.06.20 (10-12 Uhr): Fatima Sadiqi (Fès/ Marokko)

Transnational Feminism 

@ZFG

 Oldenburg
*********************************
*********************************
Version Room(The Dynamic Archive 2)
ist ein Programm, das monatlich im Projektraum Circa 106 stattfindet. Im Version Room führt "The Dynamic Archive" seine Komponenten und zugehörige Versionen vor und auf. Im Rahmen von Circa 106 will "The Dynamic Archive" im Version Room Fragen nach kollaborativem und kooperativen Arbeiten anhand von konkreten Beispielen und Experimenten diskutieren, erproben und entwickeln. 
Künstler*innen und Designer*innen stellen in "The Dynamic Archive" ihre Arbeitsmethoden und -prozesse zur Verfügung, um diese Ressourcen anderen zur Nutzung und Weiterentwicklung online anzubieten. Diese Arbeitsmethoden und -prozesse werden als *Komponenten* bezeichnet und werden zusammen mit von ihnen erstellten Versionen im Circa 106 über ihre digitale Umgebung hinaus präsentiert.
In 2017, I directed the live artwork "Orbit" at the Whitney Museum of American Art, in which myself and performance artists Amapola Prada and Elizabeth Sonnenburg, lived for 10-days in between the narrow window panes of the museum's theater in a biosphere set. Our conditions partially emulated the simulation projects conducted by universities and space agencies to test human life on spacecrafts and planets like Mars, but prioritized artistic and esoteric agendas that culminated into an experiment for "real theater".
I will be sharing my story with this artwork and other works to open up a discussion about how we live and can we? Racism, classicism, and gender and body- ableism discrimination has positioned this question differently to each of us. It is my interest that we discuss our answers to these questions not theoretically but from the reality of our personal embodiment of the effects and promises we contain within us- a bodily archive- from activities of abuse, denial, and resilience.


*********************************
Circa 106 -
*********************************
Freitag
15.05.2020
19 Uhr


Circa 106
Ausstellungen, Gespräche, instagram takeovers
The Dynamic Archive im Circa 106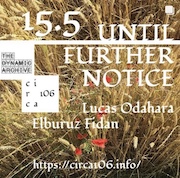 Elbruz Fidan und Lucas Odahara präsentieren ihre Kollaborative Arbeit im Version Room des "The Dynamic Archive"-Projekt im Circa 106.
The third online response regarding the postponed exhibitions in the Version Room in Circa106 is from Lucas Odahara and Elbruz Fidan. Just like art spaces and public events across the world, Lucas and Elbruz stopped. On 15.5. at 19h they are sending an "Until further notice" sign to the website of Circa 106 (https://circa106.info/version-room/until-further-notice). The sign will, as well, be shown on the windows of the gallery in Bismarkstr 106.
15.05.2020, 19 Uhr
WATCH ONLINE oder im Fenster des Circa 106, Bismarckstr. 106, 28203 Bremen
*********************************
Ausstellungen- Gespräche- instagram takeovers
in Circa 106
Center for International Research and Collaborative Art
The space is located in the city of Bremen, in Bismarckstraße 106 and since 2017 has been run by different student groups from the University of the Arts (Hochschule für Künste Bremen). 
The focus of the space is to open a discourse of inclusivity for cultural practitioners from all backgrounds, to share ideas and disciplines around a diverse set of interests. The space initiates an open and welcoming platform for everyone to feel actively heard.
Throughout the year there will be a series of open calls which address a number of subjects by situating the space within the city. Circa 106 will also be open to proposals for workshops, lectures, film screenings or other events that contribute to the community.
The collaborative aspect of the space is reflected as well within the program Version Room, that will take place on a monthly basis where The Dynamic Archive will exhibit its components and versions. In line with the context of Circa 106, The Dynamic Archive sets out to discuss, probe, and develop the questions of collaborative work and sharing.
Ab dem 10.04.2020
Eröffnung der zweiten Serie von Online-Ausstellungen 
How re-situate the Collective-the Body-the Place?
Die Ausstellung beschäftigt sich mit den politischen Implikationen und Strategien der Neusituierung als Kollektivkörper. Teil davon sind zwei Online-Ausstellungen und dazugehörige Gespräche zwischen den Künstler*innen, die nacheinander stattfinden werden. 
Die erste Ausstellung wird Arbeiten von Diogo da Cruz, Clara Osterburg Correa (nn) und Renen Itzhaki zeigen.
Diese Onlineexhibtion zeigt Möglichkeiten und diskutiert, was es heißt sich von innen heraus zu bewegen und zu organisieren, indem wir auf der Praxis der horizontalen Konversation bestehen und als transnationale Gemeinschaft handeln. Hier geht es zur
Das Online-Gespräch zum Thema und zu den Arbeiten der Künstler*innen, welches am 17. April veröffentlicht wird, können Sie hier sehen:
The conversation between Diogo da Cruz, Clara Osterburg, Renen Itzhaki, Aria Farajnezhad and Victor Artiga Rodriguez is about the discrepancy between the local and the universal and the practices each one might evoke. Especially in a time of a pandemic in which we are all facing the planetary scale impact, how can we act as a collective body? In each one of the works we find exciting moments that correspond well with the question. So the conversation has been moving round the individual works in response to the problematic of the organization and mobilization in big numbers. Together with the artists we wanted to wrestle with the topic and see if we can find alternatives which would not result into the dichotomy of sectarianism/authoritarianism.
Die zweite Online-Ausstellung umfasst Werke von Timo Hoheisel, Manana Kobakhidze und Delia Jürgens + Tarik Kentouche (collaborating in Display XYZ). Hier geht es zur
Ausstellung (ab dem 17.04.)
The second group online exhibition, which addresses the limitations of the image and it's constitution. the capacities of the already existing video capturing devices, the multiplicities of the viewpoints in order to map a dynamic representation of the space. looking into the capturing apparatuses, or the photographic devices which are impacting the environment, the lived organisms. This will include the online exhibitions and dialogues, which will take place consecutively. 
Hier Können Sie das zweite Gespräch zwischen Delia Jürgens, Tarik Kentouche, Manana Kobakhidze Aria Farajnezhad and Victor Artiga Rodriguez ab dem 24.04. erleben:
*********************************
Structures that Initiate Change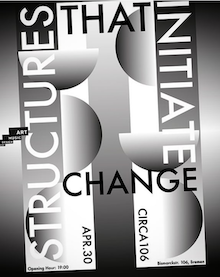 Examining organic, dynamic, planned and serendipitous relationships between objects, people, resources, materials and themes, this pin board is an insight into various experimental frameworks being develop by students taking Structures That Initiate Change. Giving the current change in the design of physical interaction due to the ongoing pandemic, the work here reflects a digital dimension of work-in-progress or completed works that came from weeks of dialog around thematic modules for designing change and practical methods engineered towards some change. These insights or snapshots highlight the obvious effects of abrupt change in the rituals of work for digital artists whilst revealing the dynamism of ideas to morph and occupy digital space. This presentation in a shared digital format also questions the politics of space, revealing fresh insights into paths for altering the traditional methods for presenting ideas. 
This project was initiated and guided by Irena Kukrić and Prof.Dr. Andrea Sick and supported by the Digital Media Program at the Hochschule für Künste Bremen. You can visit the Project hier:
Structures that Initiate Change
*********************************
Samstag
22.02.2020
20 Uhr


Les Reines Prochaines
LET'S SING, ARBEITERIN!
Diskursive Revue zum 30jährigen Bestehen des Kollektivs.


Die Königinnen* sind heute zum letzten mal in der Stadt!
Letzte Vorstellung @schwankhalle_bremen heute um 20h.
eine Handvoll Restkarten gibt es ab 19 Uhr an der Abendkasse... . . .
Don't miss it!!
Absolute Empfehlung!
Konzeption/Regie: Les Reines Prochaines, Chris Regn, Marcel Schwald. Musik/Gesang/Text/Choreografie/Performance: Lukas Acton, Sibylle Aeberli, Michèle Fuchs, Sibylle Hauert, Chris Hunter, David Kerman, Fränzi Madörin, Muda Mathis, Chris Regn, Marcel Schwald, Dorothee Schürch, Sus Zwick. Ton: Susanne Affolter. Licht: Anna Wohlgemut. Musikalische Leitung: Sibylle Aeberli, David Kerman. Video: Sus Zwick. Foto/Grafik: Lukas Acton. Requisiten: Chris Hunter. Produktionsleitung: Fränzi Madörin. Koproduktion: Kaserne Basel, Theaterhaus Gessnerallee Zürich.
Ein im Kollektiv mit Freund*innen entstandener Bilderbogen für zwölf Songs, der von nostalgischen Utopien über aktuelle Phänomene hin zu zukunftsweisenden Projektionen reicht. Etwa zeitgleich mit dem Aufkommen der Romantik beginnt ein global bewusster, bunter Haufen aktiv für die Überwindung von Ungleichheiten und ein friedliches Leben zu kämpfen: Bäuer*innen, Handwerker*innen und verarmte Intellektuelle bilden die erste Generation Industriepersonal. Diese arbeitet nicht nur, sie dichtet auch, singt, gärtnert, spielt Theater und schreibt Reportagen. In einem Akt der kulturellen Selbstschöpfung erfinden diese Frauen und Männer jenseits von Familie und Religion ein neues, gesellschaftliches "Wir": das Proletariat. Schnell kristallisiert sich aber heraus, dass die dominante Gruppe weisse Männer mit Bürgerrecht sind.
Hier setzen die Bildkorrekturen an: Weichen werden anders gestellt, Erzählstränge überarbeitet und zu früh aufgegebene Errungenschaften zurückgeholt. Immer im Zentrum steht die Arbeit selbst: Wie, unter welchen Umständen und mit welchen Materialien wollen wir auf unseren Baustellen tätig sein?